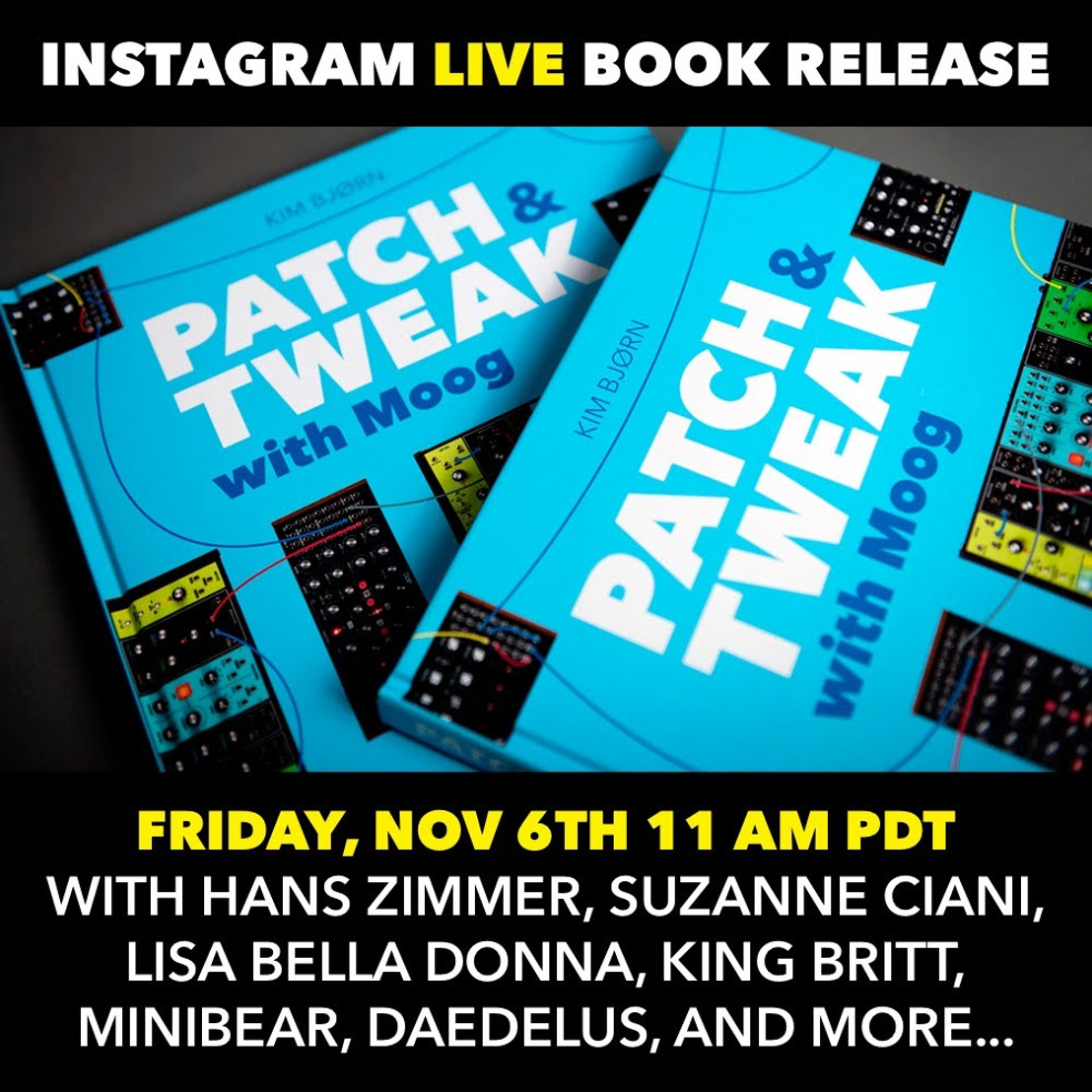 BJOOKS to Host Special INSTAGRAM LIVE Event Tomorrow
Guests including Hans Zimmer, Suzanne Ciani, Lisa Bella Donna, King Britt, Minibear, Daedelus and more to celebrate coming of new PATCH & TWEAK with Moog book
Copenhagen, DK, November 5, 2020 — In anticipation of the soon to be shipping PATCH & TWEAK with Moog book, Danish publisher BJOOKS will be hosting a special Instagram Live event on Friday, November 6th at 2:00 p.m. Eastern Time, @wemakebjooks.
​
​The event, to be hosted by author Kim Bjørn, will feature discussion about the book and some casual conversation with very special guests including Hans Zimmer, Suzanne Ciani, Daedalus, Lisa Bella Donna, Noir Et Blanc Vie, King Britt and others. Everyone is invited including Moog fans, synth cats and anyone else who wants to enjoy some authentic Danish "hygge" at this cozy Instagram event.
​
​
Who: Kim Bjørn and special guests
What: Live Instagram Event on "PATCH & TWEAK with Moog
Where: @wemakebjooks
When: Friday, November 6 at 11:00 a.m. PDT / 2:00 p.m. EST, 8:00 p.m. CET
Please join us on Friday for a sneak peek into the book and some great company. For more information on PATCH & TWEAK with Moog and our other titles, please visit http//www.bjooks.com.
About BJOOKS
​BJOOKS is the boutique publishing company started and run by author, designer, and musician Kim Bjørn. His first book, PUSH TURN MOVE, was published in 2017. This was followed by PATCH & TWEAK in 2018, which has since been referred to as the 'Bible of Modular Synthesis; "PEDAL CRUSH - Stompbox effects for creative music making" was released in 2019, and his most recent book is Patch & Tweak with Moog, released in 2020. The mission of BJOOKS is to create even more exciting titles about music technology, artists, and makers to document, inspire and explore the world of music creation.

Jeff Touzeau Public Relations, Hummingbird Media, Inc.